Tannaz Oroumchi @ Curious Duke Gallery
See on Scoop.it – London Life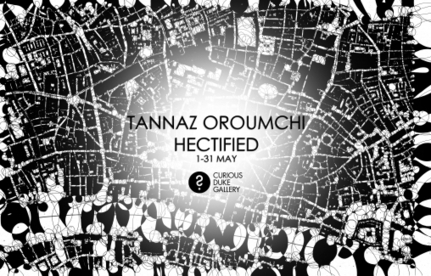 "Curious Duke Gallery is proud to present Architect-Artist Tannaz Oroumchi's first UK solo show Hectified, this May. Having worked with CDG for two years, Oroumchi has bridged architecture and fine art and re-imagined the lines of London and how we use the city. Oroumchi will be showing 1st – 31st May, with ambitious new pieces focusing on St. Paul's and the Square Mile of the City, including CDG's Whitecross Street home.
Following her residency at Curious Duke Gallery in August 2013, Oroumchi will be taking over the gallery for one month with her solo show Hectified. Taking on the existing roads, buildings and landmarks, Oroumchi refuses to accept these as infinite layouts for London, instead drawing over existing maps on thin mylar to conceive a new city: seeing the capital as a playing ground for change and hecification. A word of Oroumchi's own making, hectify means to envisage, or re-imagine, a space by drawing over the existing design, breaking up what exists and starting again with carefully drawn plans. It is this concept that the Architect-Artist has applied to her own practice, asking the question, how could we be using the City to work, live and play in? For instance London Bubble questions our use of the Thames and its bridges; can we not imagine foot bridges as circular platforms reaching out over the Thames for community areas? According to Oroumchi the City could be a fluid space, rather than static and staid.
Tannaz Oroumchi's first UK solo show will see new work that not only continues with the labyrinthine City, but the swirling roads around St Paul's Cathedral that butt against the river Thames, the angular spikes of Oxford Street and the stretch of community around Whitecross Street will take pride of place at Curious Duke Gallery this May.
Have you ever wanted to get lost in the City? Take a Curious route."
Curious Duke Gallery presents Tannaz Oroumchi: Hectified
until 31st May
173 Whitecross Street
London
EC1Y 8JT
Nearest Tube: Old Street (exit 6 – 2 min walk) Barbican (5mins)

See on curiousdukegallery.com