Côte Restaurant Barbican
See on Scoop.it – London Food and Drink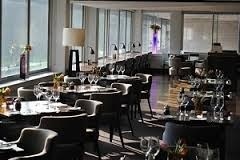 Ursula O'Reilly Traynor's insight:
16/04/14
Great lunch yesterday @ Côte Barbican.
I enjoyed a really tasty seafood linguine and my friend had the £11.70 2 course set menu, fresh tasting calamari and comforting chicken leg with chestnut mushrooms. Washed down with a very pleasant glass of house white.The 20 month old lapped up sausage and mash from the kid's menu. Staff were unfazed when D suddenly decided to flick some food and splash some water on the floor. They are clearly used to dealing with children @ this venue right beside the Barbican Centre. We were sensibly seated in a quiet area at the back, away from the other diners, so everyone was happy!
Cost, including service £44
thanks Côte
we will return!
An art exhibition close by that's worth a peek:
Or perhaps a visit to the Barbican Conservatory?
Free admission
Open on selected Sundays
http://www.barbican.org.uk/education/event-detail.asp?ID=12710
Read about it in Yannick's entertaining blog below
http://insearchoflosttimes.wordpress.com/2014/02/28/london-ramblings-4-the-barbican-conservatory/#more-933
See on www.cote-restaurants.co.uk