Current Exhibition @ RGS ~ Image, instinct & imagination
See on Scoop.it – London Life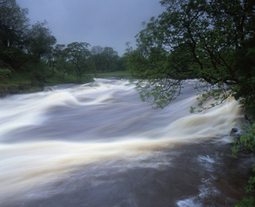 An exhibition of photographs by Simon Warner with a commentary by Jay Appleton, supported by the Landscape Research Group, LUC and Colvin & Moggridge
In an unusual collaboration, the geographer Jay Appleton and photographer Simon Warner join forces to explore Professor Appleton's Prospect-Refuge Theory of landscape appreciation, first published in The Experience of Landscape (1975), where aesthetic taste in landscape and landscape art is shown to derive from primitive, hunter-gatherer instincts for viewpoints (Prospect) and shelter or concealment (Refuge). Humans, as well as other animals, select environments that contain a favourable balance of these two elements. With the advance of civilization our survival instincts have evolved into feelings of pleasure at landscapes (or pictures of them) that would make good habitats if we had to depend on them.
The exhibition answers the question Jay Appleton poses at the start of his book: 'What do we like about landscape and why do we like it?' by presenting a series of photographs that illustrate the key points of Prospect-Refuge Theory, accompanied by a narrative commentary and detailed captions. The show contains sections on the varieties of Prospect, Refuge and Hazard. Hazard is particularly important to the theory – all places of refuge involve hiding or sheltering from something and environmental perception is all about weighing up risk and advantage.
The exhibition's title records the progression that occurs from our perception of landscape features, through their processing by our survival instincts, to their imaginative interpretation as a basis for action or appreciation. Throughout his work Jay Appleton argues for a recognition of the functional value of beauty, and for an understanding of natural symbolism whereby information about our environment is evaluated for its biological advantage.
Simon Warner's colour photographs, many being shown for the first time, depict views across Scotland, England and Wales, and the exhibition ends with a group of pictures on which visitors can try out their own newly acquired skills of landscape interpretation. Extracts from Jay Appleton's recent poetry are also featured, offering a literary perspective on his theories and underlining the essential cross-disciplinarity of his thought.
Jay Appleton's environmental aesthetics have been taken up in some diverse and unexpected quarters. Landscape architects were quick to see the significance of ideas that offered a universal explanation for people's landscape preferences. In the USA Prospect-Refuge Theory had a big influence on the environmentalist/philanthropist Prentice Bloedel, whose Reserve on Bainbridge Island in Puget Sound near Seattle is a mix of public garden and forest park. Meanwhile in his book The Wright Space (1991) the American architectural historian Grant Hildebrand demonstrated that Jay's landscape model can apply equally to the domestic interiors of Frank Lloyd Wright. In Landscape and Memory (1995) Simon Schama acknowledges Jay as one of the two thinkers largely responsible for the revival of cultural geography in Britain. And more recently the philosopher of art Denis Dutton credits Jay with re-initiating 'in its contemporary incarnation' an enquiry into the pervasive attachment all species display for their natural habitat (The Art Instinct 2009).
It may be that his ideas are seeing a wider revival, and we hope this exhibition will encourage that trend.
Ursula O'Reilly Traynor's insight:
Monday 31 March – Friday 16 May 2014
Weekdays (excluding bank holidays) 10.00am – 5.00pm
Also open on Saturday 5 April 2014 and Sunday 6 April 2014
Displayed in the RGS-IBG Exhibition Pavilion, accessible from the Exhibition Road entrance
This exhibition is small. It's just photographs you might even convince yourself you could have taken yourself.
But. Hold on.
It originates from a premise that, if not previously encountered, will make you think differently about the landscape.
Go.
See on www.rgs.org