Solitary Diner @ SeaFish Islington
See on Scoop.it – London Food and Drink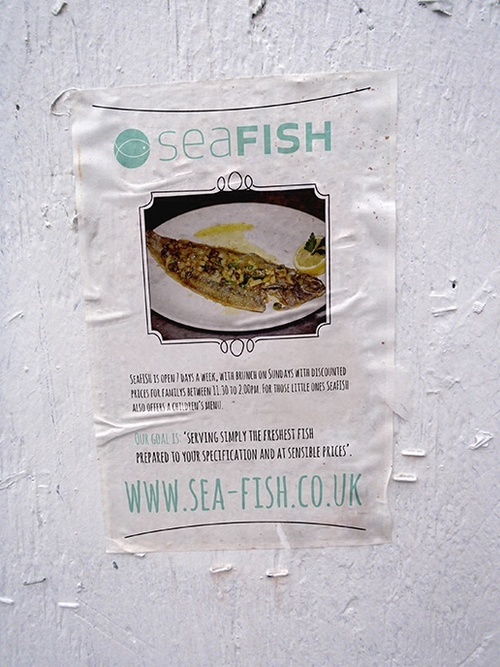 Up along Upper Street (Islington) today, looking at the shoes in Gill Shoes, when I remember a street board I had seen on my last (looking for new shoes) reconnaissance mission – and I found it – SeaFish, two courses, £9.99 with a glass of Prosecco. I peruse the menu outside, am encouraged and go in.
Interesting place, really from the outside just another fish and chip shop with the fryer by the door as you come in but the seating down the back is country-chic and minimalist and you find yourself in an unpretentious, long narrow restaurant. The tables fascinated me, there was something peaceful about them, wooden and painted rough-ish white, I tried to conjure an adjective for them – maybe Irish farmhouse kitchen white. That satisfied me to some extent.
It was a fine lunch – mussels to start and linguine and clams for main course, the prosecco was delightful and the house sauvignon blanc very good indeed.
I would certainly recommend this place and not just for solitary diners.
However, the solitary diner aspect is important; if one is that sad fellow, you need to have something to look at – well the wall decor is simply framed menus of the many dishes cooked (Wed-Fri) by celebrity chef, Gennaro Schiano Lo Moriello. The furniture – as I have said – is restful, but what of human kind? The place was empty mid-afternoon when I visited but far away (from where I was sitting) was the doorway to the street, a narrow, upright rectangular and distant aperture. So between mouthfuls, one could see representatives of our human race, Islington-brand , hurry by as in a lantern slide …
Later, I went further along the street to (of all places) Romeo's for an espresso and a gluten free cake. (£3.50) The espresso was small in quantity, indeed so small that it seemed to be merely painted on the bottom of the cup. I gently remonstrated with the uber-cool manager and he seemed delighted to give me a treble espresso at no extra charge which came to the amount in the cup that one gets free these days in any Waitrose with a Waitrose card. But, my dears, I suppose it's all about quality on Upper Street!
On my way home I stopped off in West Hampstead (isn't the Overland terrific!!) and again had a browse, this time in my favourite furniture emporium and there was a writer's desk reduced from £800 to £400 and painted in that shabby white-washy farmhouse way. I asked the young sales consultant how one might describe such a style – "shabby chic" was his cool reply – ah well, a problem solved, I was stumbling on it!
And now another article is written but on my own – at home – white IKEA desk.
The Solitary Diner
See on www.sea-fish.co.uk