Davy & Kristin McGuire: The Hunter and other works @ Shoreditch Town Hall
See on Scoop.it – London Life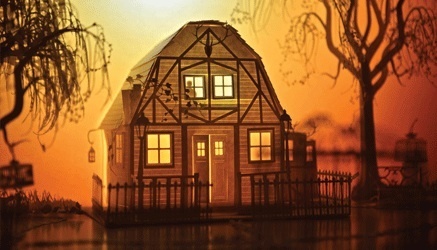 'The award-winning husband and wife team have built a reputation for innovative, indelible works – blending animation, projection mapping, theatre, film, dance and papercraft.
For the first time a fantastical selection of their work can be experienced under one roof, leading you into a world of trembling delicacy and haunting magic.
The showcase features The Hunter, a projected paper diorama which won the Oxford Samuel Beckett Theatre Trust Award in 2012; the international hit The Icebook; two recent commissions for the Royal Shakespeare Company The Haunted Dress and Sprite Symphony, plus a little sideshow that will bring you back into reality including Pinboard and Peep-Board-Pleasure.
There is a quality to the McGuire's work that will keep you guessing, and that's all part of its charm.'
"Magical and exquisitely crafted, Davy and Kristin McGuire's (…) universe is full of visual wonders" The Guardian
Thu 6 March – Sun 9 March
Various Times
The Ditch £11
Ursula O'Reilly Traynor's insight:
So happy to discover The McGuires' 'Icebook' back at the start of 2013
And they are in London this weekend! In their entirety!
Race you to the Town Hall!
See on shoreditchtownhall.com