Jessica Eaton @ The Hospital Club
See on Scoop.it – London Life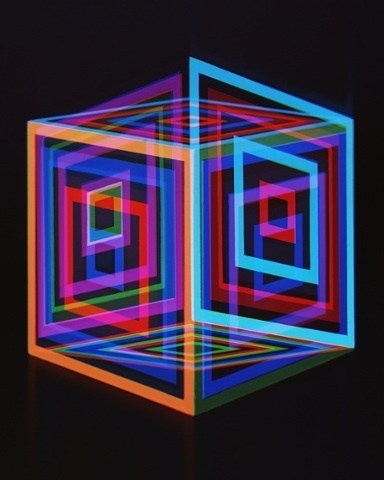 From Friday January 24 until February 8
The Hospital Club Gallery presents Jessica Eaton's debut London exhibition Ad Infintum, in collaboration with Print Sales at The Photographers' Gallery.
Eaton's practice shifts the focus onto the photographic medium itself by deconstructing the various elements and effects involved in making photography. In her cflaal series she utilises analogue techniques such as the additive system of colour by photographing a series of wooden cubes that are painted various shades of white, grey and black against a monochromatic background. Through the use of multiple exposure and colour filters the cubes are coloured 'in camera' – with the reflective value of the painted cubes defining the resulting colour, which is only visible once the film has been developed.
The resulting brightly coloured graphic images are comprised of geometric shapes, often layered on top of each other to create optical effects, the vibrant colours contradicting the monochromatic origins of the subject.
Jessica Eaton (b. 1977, Regina, Saskatchewan) holds a BFA in photography from the Emily Carr Institute in Vancouver, British Columbia. Eaton has exhibited in solo exhibitions in the US and Canada, as well as numerous international group shows. Her work is held in the permanent collection of the UBS Art Collection, NY and Bidwell Projects, Cleveland, Ohio. Notable awards include PDN's 30 New and Emerging Photographers (2013), the Hyères Photography Jury Grand Prize (France, 2012) and the Foam International Photography Magazine Talent Call (2011). Eaton has received grants from Canada Council for the Arts (2011) and Humble Arts Foundation (2011) and was recently awarded a Darling Foundry studio for 2013-2016. Jessica Eaton lives and works in Montréal. www.jessicaeaton.com
Ursula O'Reilly Traynor's insight:
See on www.thehospitalclub.com