Silent London: Charlie Chaplin, fashion icon
See on Scoop.it – London Life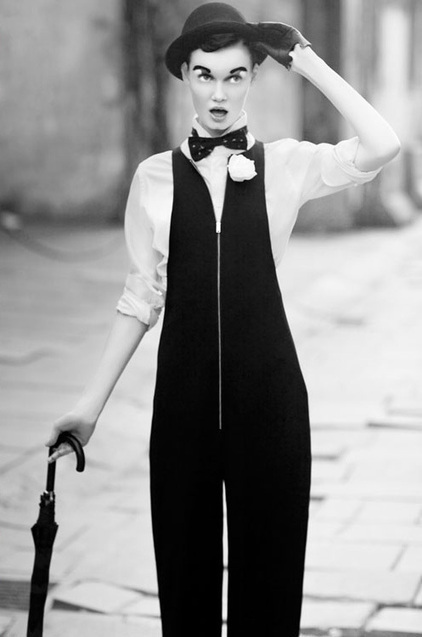 ,
Alexa Chung is described as an "It Girl" so often that it is safe, with apologies to Clara Bow, to go ahead and call her that. Which means that when she appears on the cover of British Vogue, as she does this month, the fashionistas take note. The Vogue cover story in question is a couture fashion shoot styled by the magazine's fashion director Lucinda Chambers and photographed by the legendary Patrick Demarchelier. Did I mention that it is inspired by and named after one of our very favourite silent films: Chaplin's heartbreaking, hilarious The Kid?
According to the pages of Vogue, "Alexa Chung channels her inner Charlie Chaplin in the season's most magical designs". The outfits featured combine couture gowns by houses including Chanel, Valentino (!) and Versace with vintage hats (something of a trademark for Chambers), and classic Chaplinesque touches – oversized boots, baggy pinstripe trousers and even a spindly bamboo cane. It's a fashion shoot rather than a fancy-dress act, so the source material has been interpreted, not replicated: Chung wears a peaked cap that's more Jackie Coogan than Little Tramp, for example. But it's not entirely fast-and-loose. You could view those designer dresses, embellished with pearls and sequins, as a nod to Edna Purviance's upper-class character in the same film – meaning that Chung encapsulates the whole family. More likely, the Chaplin look has been chosen to offset all that opulence and to capitalise on Chung's gamine beauty. She has long been celebrated for a certain "street-urchin" look that's pure The Kid. In fact, she told Glamour magazine in 2012 that Chaplin inspired her dress sense, captioning a selfie with the words: "This is my Charlie Chaplin look – black trousers with suspenders and an Yves Saint Laurent shirt. Putting weird pieces of clothing together is what I'm good at."
,
Ursula O'Reilly Traynor's insight:
WHAT IS SILENT LONDON?
Silent London is the place to find out when and where silent films are screened in London.
great resource!
See on silentlondon.co.uk