Tomorrow is the deadline for applications from the public! Want a play performed in your home? Exciting opportunity on offer from Theatre Royal Stratford East!
See on Scoop.it – London Life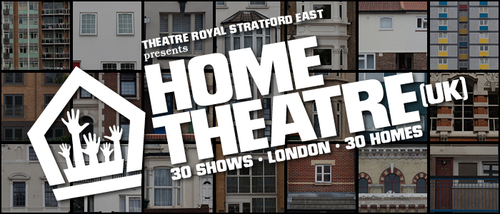 HOME THEATRE (UK)
30 bespoke performances to be staged for people in their homes across London.
Theatre Royal Stratford East is calling for members of the public to take part in a bold and exciting international project that will see thirty new, one person shows performed in thirty homes across London. The project, which will be taking place in the UK for the first time, has been developed with Brazilian partner Festival Internacional de Cenas em Casa. Those hosting the work in their homes will see their own stories incorporated into the performance and will be able to invite their own audience. The performances will be performed simultaneously on Saturday 26 October and recorded live before being broadcast on Saturday 9 November, enabling audiences from around the world to see the work and be part of the conversation online. Applications from London residents wishing to take part in the project are being accepted until Friday 23August at 6pm.
Home Theatre (UK) is a pan-London project, linking boroughs from across the capital, including some of the city's more affluent areas with Newham, a vibrant and diverse borough with extremely low arts engagement, where there are major influxes of new residents as the post-Olympic regeneration continues. The intention is to capture the spirit of London and to place Theatre Royal Stratford East's own borough of Newham in this context.
Artists working on the project will take their inspiration from the stories of those who are hosting the work in their own homes. At the end of the week, hosts will be encouraged to invite an audience of friends and family to see a free performance. The host is then asked to provide a meal, over which thoughts and experiences can be shared.
Home Theatre (UK) is being run in partnership with the Festival Internacional de Cenas em Casa (International Festival of Home Theatre)and has come about following Artistic Director Kerry Michael's trip to Brazil earlier this year, where Theatre Royal Stratford East has been invited to grow relationships in preparation for the Rio Games in 2016. Kerry Michael said "Home Theatre (UK) is about staging performances in people's familiar surroundings. In a sense, we will be serving our audiences and letting them be our masters. We will create bespoke work for them. Our intention is to involve at least fifty percent of hosts who have had no prior experience of seeing theatre." Michael continued "Home Theatre (UK) is about telling great stories; this project will capture these from across the capital. It's also a great opportunity for artists and London audiences to come together, share a meal and have an open dialogue about their stories and the project."
Kerry Michael directed nine pieces for residents of the communities of Borel and City of God (which are pacified Favelas to the north of Rio) with its creator Marcus Vinicius Faustini. Faustini who is a writer, theatre director and filmmaker explained: "We wanted to raise the discussion about what theatre is, whether it's about getting people into venues or if it's possible to invent another way to give people the chance to experience theatre."
Home Theatre (UK) is another example of Theatre Royal Stratford East exploring the relationship between art and audiences, this time in partnership with an exciting and innovative project taking place in Brazil. Home Theatre (UK) will create three networks of thirty hosts, artists and film makers. The interplay between these is anticipated to generate creative energy, new ideas and insights making this an important and immensely exciting project. Home Theatre (UK) also builds upon the legacy of Open Stage, a radical and ambitious Theatre Royal Stratford East project; one of the most significant mass consultation, community curating and participation projects of any theatre in the UK.
Students from the Department of Film, Theatre & Television at the University of Reading will be filming all the performances for Theatre Royal Stratford East's Home Theatre 30 x 30 digital event, which will take place on Saturday 9 November from 8am – 11pm. The thirty films will be released one every thirty minutes on the theatre's online performance platform and screened at the theatre. Audiences will be encouraged to comment and talk about the work using social media.
Members of the public wishing to take part in this exciting project can find out how to apply by visiting Theatre Royal Stratford East's website: www.stratfordeast.com/hometheatre or call 020 8279 1157 to request an application form. The deadline for those interested in taking part in the project is Friday 23rd August at 6pm.
(Above information is from Theatre Royal Stratford East press office )
Ursula O'Reilly Traynor's insight:
What an exciting project! Please share this with anyone you know that might be interested in applying!