Summer @ Quaglino's
See on Scoop.it – London Food and Drink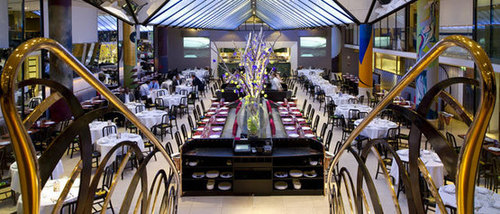 Quaglino's has again partnered with the Evening Standard to provide you with a reason to get out and enjoy London from only £15 for two courses or £20 for three courses including a glass of wine.
Ursula O'Reilly Traynor's insight:
17/08/13
I went to see the Summer Exhibition @ the Royal Academy yesterday and had lunch afterwards @ Quag's, still one of my favourite restaurants in London. Why? The setting is both spectacular and restful. The staff are beautiful. The service makes you feel special. The summer menu in partnership with the Evening Standard is a bargain @ £20 for three courses with a glass of wine.
Here's a link to the menu: http://www.quaglinos-restaurant.co.uk/uploads/assets/menus/77831_Quaglino's%20ES%20Summer%202013.pdf
I had chilled pea soup, sea bream and mango sorbet and each course was a delight. The wine is very quaffable.
The offer is on until Sept 1. It makes August in the city much more bearable and I shall certainly be going back before the summer's end.
As for the Summer Exhibition? Pretty much as usual. The curate's egg. Fairly formulaic but you can always play Spot The RA and there are some delightful surprises amongst the dubious daubs. I loved the Print Room. The last room houses Grayson Perry's tapestries, currently on tour. This was my first time to see his work up close and I was bowled over. Such an acute and vibrant exploration of the link between taste and class. You will smile and try to distance yourself, but can you really act superior, truly disassociate yourself from the sad humans depicted here?
Hear him discuss two of the tapestries : http://www.channel4.com/programmes/in-the-best-possible-taste-grayson-perry
and more info here: http://www.artfund.org/news/2012/11/30/grayson-perry-tapestries-secured-for-the-nation
The Summer Exhibition closes tomorrow.
See on www.quaglinos-restaurant.co.uk