PREMIUM SAKE TASTING AT HYPER JAPAN LONDON EARLS COURT 2013
See on Scoop.it – London Food and Drink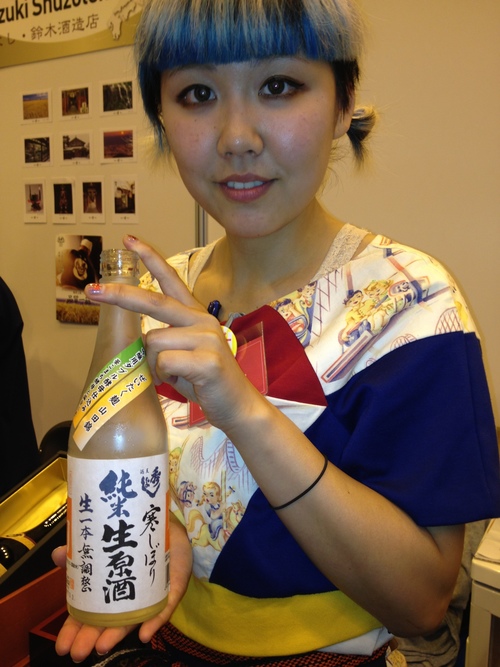 There was a very slow-moving queue for the sake tasting but the wait was worthwhile. There were 33 sakes to taste at eleven tables. Each table had at least two instructors to explain their brewing technique and also talk about which part of Japan the rice came from and how the sake was made. All the people in the queue really enjoyed this and were full of questions which was why things moved so slowly. But no-one was getting stressed – I think the Japanese instructors radiated a sense of calm and good nature and dignity which affected us all in an ameliorative way – or was it the wending our way through the 33 shots of sake that kept us all in such good spirits?
There were two delicious sparkling sake to start off with – Suzune Wabi and Sho Chiku Bai Shirakabeguta Mio. We were told they were only 5% alcohol but for all that they were a delight and would grace any dessert. Later in our instruction we were told that traditional sake is around 15-19 % alcohol and most of them were. All were high class sake and all were smooth to the palate and pleasant to the tongue – not like some of the cheap stuff I have encountered in the past. All were distinguished but none more so than the Gekkeikan Nigori Sake by appointment to the Japanese Imperial Household! Nor indeed the sake from Urakasumi responsible for producing the sacred sake for the prestigious Shiogama shrine, the Ichinomiya of Northern Honshu. It was interesting to learn that the name Urakasumi came from the words of a poem, 'ura' means 'bay' and 'kasumi' means 'mist'; these were taken from the line:'The winds of Shiogama's sea blow gently through pine trees, like a mist hanging over the bay. Has spring arrived to these numerous islands all at once?'
The penultimate and final tastings though was rather different – on these two tables there were examples of 40% alcohol sake which tasted rather like a single malt whiskey or the rice wine's Irish equivalent – the potato wine, poteen used to be illegal actually!
Standing in the queue and looking around there were so many aspects of Japanese culture to take in – obviously lots of technology stands, but also evidences of the bizarre – boys dressed as girls, girls dressed as sailor-boys, tall transvestites (one beareded) – I don't think he was Japanese – in fact I think I recognised him from Brighton! But all these young buzz kids were exotic and beautiful and my editor was doing a lot of stuff with her camera, instantaneously sending it all on to facebook and the kids were loving it, posing and laughing – in fact everyone at the expo seemed to be happy all of the time!
Shaun Traynor
Ursula O'Reilly Traynor's insight:
Further information on Hyper Japan can be found here: