Fantasia Land
See on Scoop.it – London Food and Drink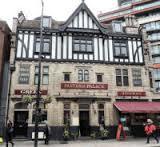 I really like finding places where I can have the two courses for under a tenner, or even under £15; a glass of Pinot and a tip and you're getting out for £20.The places I have found and treasure are usually attached to something else, maybe a good bookshop, or just an area of London where I have had to go for something on a regular basis. When I have to go to hospital, for instance, it is usually to St Mary's A&E and I always try to time it so that I can get to FANTASIA PALACE for lunch. FANTASIA PALACE is a Greek restaurant further along Praed St. with a two course lunch menu for £6.85 and the Pinot is but £4 a glass. Mind you, should the hospital tell you you'll live forever, there's loads of Retsina! Anyway, having had my knee looked at after an over-ambitious game of tennis in post Wimbledon fervour, I was almost first in and chose the smallest table "for two" so as not to prevent better custom.
I was chugging along really nicely on the pitta bread and hummus, looking forward to the calamari (in fact absolutely delicious, plump and tender, poor things), when guess what? The paparazzi arrived. I had noticed a lot of "not ill people" in fenced off areas when I had arrived at the hospital and also (significantly) a Henman Hill type hierarchy of photographers, but I was so concerned about my knee that I hardly took account; then I remembered – OMG! This was the birth day of a future king.
The paparazzi in the FANTASIA PALACE weren't at all the worn out corrupt and ragged urban wolf type people they are depicted as; they were svelte, smooth, mostly young, loaded with thousands of pounds worth of cameras and up for the Greek food and the booze. The restaurant became a very buzzy place – not at all what I had planned. The photographers had piled in because the time of Kate's departure from the hospital had been delayed. I reckoned they would sit there having a good time until an alert came.
Although FANTASIA PALACE is housed in one of those grand old English pubs, stone built, solid, but now sadly redundant, and with nothing in its brickwork or sad lack of presence to suggest a fantasy; yet it was here, at the incumbent FANTASY PALACE – or at least near to here, that another, very special, fairytale was born.
Sometimes it's nice to be in the right place at the right time!
Solitary Diner
23/07/13
Ursula O'Reilly Traynor's insight: