Exhibition of the Week/ Elisabeth Blanchet/ Prefabs: Palaces for the people/photofusion/Brixton
See on Scoop.it – London Life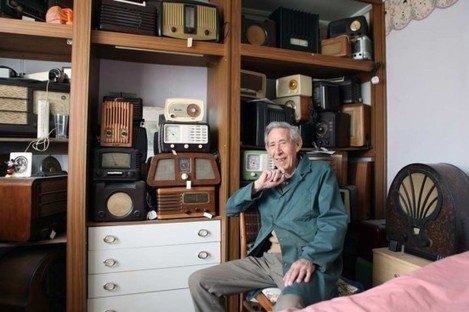 Photographer Elisabeth Blanchet has spent over 11 years building an archive of post-war prefabricated homes and communities in the UK.
Prefabs – Palaces for the people is a multimedia exhibition that includes photographs, interviews, short films, stories, an ipad interactive platform and prefab memorabilia.
"In 1943, the Government invested in a prototype, temporary steel bungalow, which became known as the "Portal Prototype". In a speech in March 1944, Prime Minister Winston Churchill promised 500,000 temporary new homes to deal with the acute housing shortage, although only 156,623 were produced (between 1945 and 1949). The first prototype was displayed outside Tate Gallery, London in May 1944.
Over the years there has been much interest in prefabs from writers, the general public and through the media. Actor Michael Caine and politician Neil Kinnock were both famously brought up in prefabs. Recently, the popular television programmes Foyle's War and Call the Midwife have both featured prefabs and ignited people's interest in, and nostalgia for, post-war British design. Architectural heritage consultant and writer Greg Stevenson and sustainable housing expert, architect and writer Brenda Vale have authored two of many books on prefabs.
Designed for homeless families with young children, these "palaces for the people" (as they were called at the time) were synonymous not only with comfort and luxury but also with freedom from the cramped and unsanitary urban housing of pre-war Britain."
Ursula O'Reilly Traynor's insight:
3/06/13
I was very lucky to arrive at this exhibition when it opened last Saturday morning. Elisabeth Blanchet was there already and talking about it to a group of visitors. She provided fascinating insights into a chunk of social /architectural post-war history that rarely hits the headlines.The personalities behind the lifestyle are well documented in the accompanying film. I recommend this exhibition because it is so thought-provoking. Also, for me, it is nostalgic. I spent my first 6 years in a pre-fab in Northern Ireland and fondly remember it. Particularly, the chickens we kept and the nightly ritual of the lighting of the gas lamps, with a long taper. It felt like we were living in a snug caravan.
See on www.photofusion.org