Tasty times in Trastevere
See on Scoop.it – Beyond London Life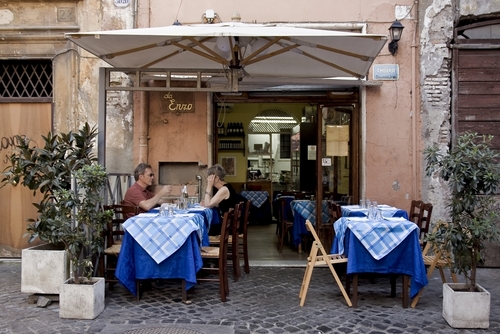 FOR a true Roman foodie experience, look no further than the unassuming but historic trattoria 'Da Enzo' in Trastevere, the most evocative and indeed oldest quarter of Italy's capital city. Though few of the original locals still live in its much sought after homes, Trastevere, with its cobbled streets, breathtaking piazzas and terracotta-coloured palazzi, is possibly Rome's most picturesque district.
Da Enzo, one simple dining room complete with checked tablecloths and a few wooden tables and chairs outside, could easily be passed over if you are one to equate swanky location with excellent food and service. Not so in Italy. In fact, my Roman friends will tell you that the plainer, more 'spit and sawdust' the surroundings, the more likely you are to enjoy delicious food and the kind of brash banter the Romans are famous for. Forget atmospheric candles and decorative sprays of ivy, and seek out the brightly lit eateries with a queue of loud locals outside.
This place is full of Italians and just a spattering of tourists when we arrive. After a short wait, we take our place at a rickety table outside, scooters nonchalantly whizzing past and a line of washing strung across two buildings above us. All house wine is locally sourced, and our bottle of fresh, crisp biologically produced white hails from a small vineyard on the old Roman road, Appia Antica.
Roman cuisine, compared to that of Emilia Romagna and other parts of this gastronomic heaven known as Italy (we'll not touch on politics or economy, shall we?!) is not, so to speak, a sophisticated one. It's simple, extremely tasty, always abundant in portion size and made with few ingredients – always of the highest quality.
My boyfriend Pierpaolo and I begin by sharing a plate of burrata (literally meaning 'buttered'), a fresh cheese made from mozzarella and cream which was so melt-in-the-mouth I thought I'd died and gone to heaven. I followed this up with an equally calorific plate of amatriciana – the Roman pasta dish per ecellenza, while the other half got stuck into a pasta 'al sugo di coda' (sauce made from a cow's tail). Both peasant foods traditionally, their simplicity is what makes them so ridiculously tasty.
To end, full to the gills, we share a portion of homemade tiramisu, nothing like the sickly-sweet imitations I've tasted back in London but subtle and made, so the menu enigmatically states, with 'the eggs of Paolo Parisi'. No true two-hour lunch is complete in this part of the world without a grappa or amaro to wash it all down with – so Pierpaolo obliged with the former and I with the latter, as we chat to a smart and very engaging lawyer and his wife at the next table about life, love and of course our opinions of the food on offer (excellent is the general consensus).
Here conversation is warm and expansive, and can start with 'Hi, I'm Shelley' and then move seamlessly straight to the state of the nation's politics. As we soak up the atmosphere and people-watch, we also strike up conversation with the white-haired guy at the table next to us, who it transpires is Enrico Lucci one of the main pranksters on leading political satire show Le Lene. Enrico proves as witty and quick as he comes across on TV, and after several laughs with him (he lives a few doors down) and the bill paid up, we decide it's time to pick ourselves up and walk off some of that carbohydrate load as the light slowly fades on Trastevere's old buildings.
Shelley Marsden
Da Enzo, Via dei Vascellari 29, Roma. The restaurant website includes recipes of Da Enzo's dishes. See www.daenzoal29.com.