Royal College of Art Shows in Kensington and Battersea
See on Scoop.it – London Life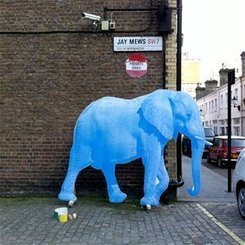 Open to the public: 20–30 June (closed 28 June)
12 noon – 8pm daily
Free admission
===============
Royal College of Art, Kensington Gore, London SW7 2EU
Show RCA Kensington will include students from the programmes of Critical & Historical Studies, Design Products, Design Interactions, Fashion Millinery, Footwear & Accessories, History of Design, Innovation Design Engineering, Textiles and Vehicle Design, who will all exhibit in the Darwin Building. Students from Animation and Visual Communication will take over the adjacent Stevens Building, using the studios to display and sell their work.
Show RCA Battersea
Dyson Building, 1 Hester Road, London SW11 4AN
Sculpture Building, 15–25 Howie Street, London SW11 4AS
Sackler Building, 14–22 Howie Street, London SW11 4AY
Moving Image Studio, 1–11 Howie Street, London SW11 4AS
Testbed 1, 33 Parkgate Road, London SW11 4NP
Students from Ceramics & Glass, and Goldsmithing, Silversmithing, Metalwork & Jewellery will exhibit in the gallery of the College's recently opened Dyson building in Battersea, as part of Show RCA Battersea. They will feature alongside the Fine Art programmes of Painting, Photography, Printmaking and Sculpture. The College will make use of the neighbouring Testbed 1 space again this year to exhibit Architecture students' work. Critical Writing in Art & Design and Curating Contemporary Art programmes' exhibits will include opportunities for commentaries and discussion spaces.
Shuttle Bus
A daily shuttle bus will operate continuously between Kensington (Jay Mews entrance) and Battersea (Sculpture Building) throughout the Show opening times (12–8pm), waiting for passengers for five minutes in each location.
Ursula O'Reilly Traynor's insight:
I love student shows! You never quite know what you will discover among the new talent emerging from one of our leading art colleges. I love the opportunity to chat to the young artists as I view their work, often being exhibited to the public for the first time. I'll be going to lots of college shows this summer and hopefully getting some inspiration on how to revitalise my domestic space (okay, tired looking flat in NW6!). Investing in young artists makes sense.
See on www.rca.ac.uk