Album of the Week: Lady Maisery – Mayday –
See on Scoop.it – Music for a London Life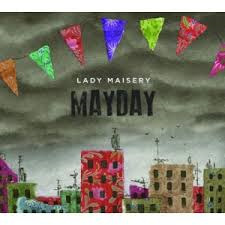 "The triumvirate of talent that is Rowan Rheingans, Hannah James, and Hazel Askew reconvene for a second album as Lady Masiery. After their first outing, Weave And Spin, catapulted them into the limelight, and helped secure a nomination for the BBC Radio 2 Folk Horizon Award, one would think new direction might have been an issue, but Mayday sees the group negotiate uncharted waters with ease."
Read the rest of the Spiral Earth review here:
http://www.spiralearth.co.uk/news/Review-story.asp?nid=7403
The FT gave Mayday a 5 star review:
'Readers of this newspaper may listen uncomfortably to a close-harmony version of Leon Rosselson's "Palaces Of Gold", setting out the wilful blindness enabled by the rich insulating themselves from the social services used by the poor. Elsewhere, the trio peer into the darker corners of the traditional repertoire, from crows on cradles to false young men; there is also a fizzing reading of Kate Bush's "This Woman's Work". '
David Honigmann
Ursula O'Reilly Traynor's insight:
Lady Maisery's sophomore album contains serious songs from the 'old folk' repertoire; songs of protest, songs of warning that are beautifully delivered with perfect harmony and fresh arrangement. A gathering of songs that by turns chills and thrills the listener. I like their brave reworking of almost forgotten songs that deal with sombre, relevant truths in the personal and public domain. This trio may be young, but their musical ability is already accomplished and strikingly intelligent. They have an energetic and endearing kickass attitude. They may provide hauntingly beautiful music, but be assured of its potency; it is seasoned with a subtle attack on our complacency.
For more info on Lady Maisery: http://www.ladymaisery.com/
See on www.spiralearth.co.uk