The Brunel Museum Thames Tunnel 170th anniversary celebrations
See on Scoop.it – London Life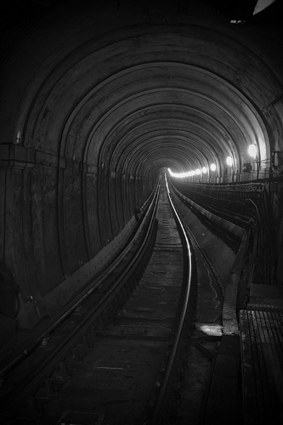 "The Thames Tunnel, completed in 1843, is the oldest tunnel in the oldest underground system in the world, As part of the 170th anniversary celebrations in 2013, we are delighted to announce a number of special events
Train Tours
On advertised days the Thames Tunnel is floodlit, and the view under the river from Wapping platform is stunning. You are looking through the pillars and porticos of the world's first underwater fairground. Look closely any day and the same view can be glimpsed from Wapping, when the Tunnel is briefly lit by passing London Overground trains.
Descents of the Grand Entrance Hall
Directly above the Tunnel is a secret underground chamber where Brunel nearly drowned. Today access is only possible by low doorway and temporary staircase, but this was once a spectacular underground theatre. We are fundraising to fit out the space for entertainments in the grand style. Guided descents take place through the year every Sunday and Tuesday , and every Saturday evening through the summer and for Open House Weekend, Open Garden Squares Weekend and other advertised days.
Tunnel Walks
From time to time we organise guided walks through the Tunnel. These events take place during planned engineering works, and we are very grateful to Transport for London and London Overground for giving their consent. In March 2010, groups of fifty people left every 10 minutes to walk from Rotherhithe station to Wapping.
Mayor of London, Boris Johnson, and the Coldstream Guards, led thousands of people through the Tunnel to the Museum square for the re-launch of the Thames Tunnel Fancy Fair. The Guards played here once before, of course, at the famous Underwater banquet, organised by Isambard Kingdom Brunel in 1827. For two days, the square outside the museum was a fairground, with acrobats, Victorian strongmen and sideshows. For the first time in a hundred and fifty years, people queued at Rotherhithe to walk under the river. This extraordinary event was covered by newspapers and television all over the world …
In 2013 the Heritage Lottery Fund are supporting another spectacular blockbuster event above and below the River Thames. Dates are yet to be confirmed, but there will be Tunnel Walks, music concerts and entertainment from all over the world. The Thames Tunnel opened in 1843 as tourist attraction and party venue, and Zoë Wanamaker describes the Grand Entrance Hall as 'a spectacular underground gateway to the world's first underwater theatre space'. History books tell us that people did not simply enter the Tunnel to reach Wapping: they were buying tickets for a place in history.
Dates will shortly be announced here, so watch this space. "
See on www.brunel-museum.org.uk