BBC Radio 2 – 2DAY with Jeremy Vine
See on Scoop.it – Music for a London Life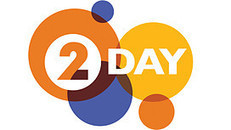 "Jeremy Vine continues 2Day's celebration of the orchestra. Jeremy shines a spotlight on the string section of an orchestra and discusses various topical issues to do with orchestras. Dermot O'Leary presents live music from Emily Barker at London's Hackney Empire and Janice Long presents a Ukulele Masterclass featuring the Ukulele Orchestra of Great Britain, Radio 2's Johnnie Walker and a number of well-known comedians. And Bob Harris explores different musical styles with two very contrasting violin players.

2013 marks the 60th anniversary of the world's longest running orchestral music show 'Friday Night is Music Night', and this year's 2Day celebrates the orchestra and its instruments, culminating in a Friday Night Is Music Night Gala concert at the Hackney Empire in London. Featuring the BBC Concert Orchestra, the evening will bring together a host of Radio 2 presenters and special guest performers including Gary Barlow, Elaine Paige , Mick Hucknall, Jamie Cullum and Clare Teal- plus Tony Blackburn as you've never seen him before and a grand finale from the Radio 2 All star presenters choir. You can watch the concert live via the Red Button and on Radio 2's website at bbc.co.uk/radio2.
Throughout the day, in the lead up to 'Friday Night is Music Night', Radio 2 explores the impact of orchestral instruments across a wide range of music…from pop to jazz…from folk to classical. Each show, from Chris Evans to Simon Mayo is themed around a different section of the orchestra , and features special guests, orchestral moments some unlikely live music performances."
Ursula O'Reilly Traynor's insight:
Phil Beer will be at the Hackney Empire from where he will be heard live on BBC Radio 2's Jeremy Vine Show, around 12 noon. He will be talking to Bob Harris about his folk-style fiddle playing in a segment that explores how musicians from different genres approach the same instrument.
Bob will also talk to Cynthia Fleming, the leader of the BBC Concert Orchestra, about playing classical-style violin and both musicians will play to illustrate the conversation, as well as performing a duet together.
Phil Beer is simply one of the best multi-instrumentalists around. Have a listen to what he has to say and play in a few minutes!
See on www.bbc.co.uk