The Match Box @ The Tricycle
See on Scoop.it – Irish Life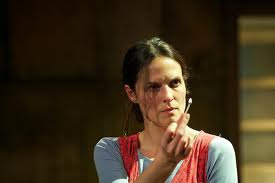 THEATRE REVIEW
MATCHBOX
By Frank McGuinness
Tricycle Theatre Kilburn
Until Sat 1st June
Box Office 0207 328 1000
A one woman story-telling evening, no late-comers, no interval; the promise is you'll be enthralled. I was. The story is one of loss, of redemption and revenge. Set in Liverpool, a young woman maddened by the loss of her child in gunfire, is further maddened by the reaction of her reactionary Irish parents. The plot is relentless and cold blooded, as we follow the logic of her unsafe mind.
What I saw tonight was one of the great one actor performances and a play written with such skill that I wasn't ever allowed to predict; I was held, fearful, in the moment.
Leanne Best was the revelation of the evening, a commanding, mock-modest performance which really must win actor of the year or of the decade.
Shaun Traynor
Ursula O'Reilly Traynor's insight:
spellbinding!
it's dark, but it's funny too
go!