Once: A Thoroughly Modern Musical
See on Scoop.it – Irish Life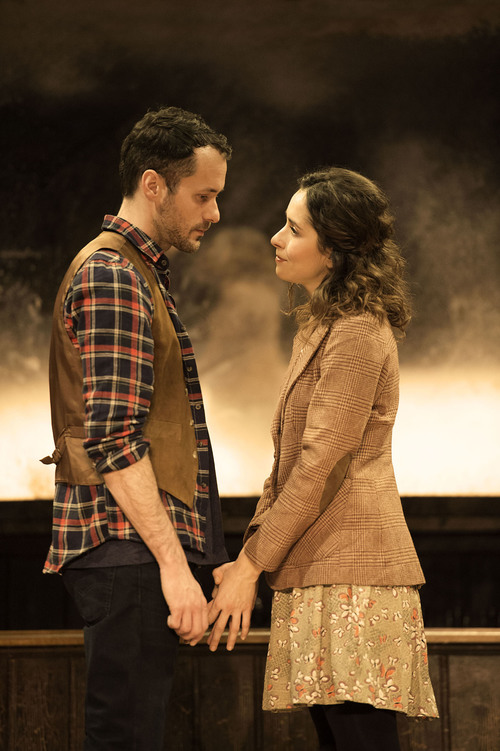 Shelley Marsden talks to Declan Bennett, star of the new West End musical Once…
Sometimes someone creates a work of art that universally captures people's hearts, be it a poem, a film, a painting or a novel.
Once, the much-loved 2007 indie film starring The Frames' frontman Glen Hansard, is one. Hansard and his co-star, one-time partner, Czech actress Markéta Irglová, won an Oscar for Best Original Song for the film's haunting Falling Slowly. A fresh, warm tale of love, friendship and the unifying power of music, Once is about an Irish busker and a young Czech mother who meet through a shared passion for music, their song-writing collaboration leading to a tender romance that takes them both by surprise.
Not a lot happens in this Dublin-set love story, but it speaks a truth about the human condition and presents a gritty, real, story which takes audiences away from an Ireland of high-kicking Riverdancers and presents a truer vision of the country, complete with themes of immigration and unemployment and full of creativity and dreams.
The lucky streak of the original film continued when Once the musical opened last year on Broadway, winning eight Tony awards amongst other honours. It continues to break box office records there. Now it's on its way to London's West End after a warm reception at Dublin's Gaiety Theatre, with Declan Bennett as Guy and Croation actress Zrinka Cvitešić as Girl.
Once is very much a musical of the modern ilk, much like The Book of Mormon, Matilda and American Idiot – the music is backdrop to a contemporary story. There is live music throughout and each cast member is a seasoned musician, but – thankfully – it's not of the spontaneous, burst-into-song variety, it is part of the story. There are no glittery costumes to be seen, and Irish playwright Enda Walsh (Disco Pigs, Misterman) remains pretty faithful to the understated simplicity of the original. The Czech storyline is more central in the stage version and The Girl's mother and daughter. Walsh has done an impressive job tackling such a lovely, delicate film and transferring it to the stage. It takes a certain kind of writer to keep the spirit of the movie and allow people to experience it watching it on stage.
Coventry-born actor and singer-songwriter Declan Bennett has appeared in Rent and American Idiot on Broadway and Taboo in the West End and is perfect in the role of Guy.
"I'm not even acting, I'm just being myself," he laughs when The Irish World interviews him as he catches his breath after the Dublin run.
"I can completely identify with busking. I used to busk when I was growing up in Coventry. I would sit under the subway and then buy a bag of chips on my way home. I can completely identify with that struggle of just trying to get people to listen to your music, playing to one man and his dog, up and down the country, night after night after night, trying to find your audience. The very top of the show is that we meet this guy at that absolute point of, it's over, I'm done. I have the benefit of understanding that very well."
Bennett was a member of the band Point Break before putting out his first solo album The Painters' Ball in 2005, followed by An Innocent Evening of Drinking in 2008 and Record: Breakup, released in April 2011.
The story behind how the last one came about is definitely one for the grandchildren, and Bennett is still a little incredulous when he tells it.
The singer-turned-actor was gigging in New York one night (he's lived in the US the past seven years but is back for Once). Billie Joe of Green Day, with whom the actor collaborated for the stage adaptation of the environmentally activist punk band's satirical album American Idiot, dropped by to see him play live.
He recalls: "Billie had never heard my music before, and it was this new stuff I was playing. He sort of pulled me to the side afterwards and said 'So what the hell are you going to do with all these songs?' I told him I was broke and needed to get some money together to make a demo for the album. He called me the next day and said he'd booked me some studio time to go and do it. It was one of the nicest things anyone's ever done for me. It's kind of responsible for me making that album.
"My music's very close to Glen's, and a million miles away from Green Day. But being able to connect with somebody like Billie Joe, who's this big Californian punk-rocker, well, he's little but with a big personality, on these delicate, emotive songs and stepping in and helping like that… it kind of blew my head away."
There's something serendipitous, too, about how Bennett landed the lead role for Once. John Tiffany, the Englishman who won a Tony for Best Director for the show on Broadway, was introduced to Bennett by Stephen Hoggett, who had worked with the actor on American Idiot.
Before Once was even on the cards, Bennett and Tiffany had become friends, hanging out and going for beers on more than a few occasions. Towards the end of last year, says Bennett, the question came up – would he be interested in auditioning for the part of Guy in Once? A couple of rounds of auditions later, and he got the job.
The question on many lips in Theatreland here is whether Once will enjoy the same success in London as it did in America. are two different audiences, so does that mean two different sensibilities?
Bennett and the Once team, he says, are asking themselves the same question, but he's convinced it will be a hit.
"When I look at past productions of shows that have happened in the UK first and then gone to the US and not done so well, then American productions that have come to London and not done so good – well, this is the reverse. It's a show about Irish people with a real European flavour to it. But it started in America – and it's had this incredible success. People just fell in love with it over there, and living in New York I saw that at first hand.
"Personally, I can't imagine people not taking to Once. It's such a beautiful, honest, raw portrait of real people. You'd have to be a bloody vampire not to like it. You'd have to not have a soul. But you don't know, different theatre appeals to different people. It went down very well in Dublin there, so it's nice to know it has the blessing of the homeland."
Tissues at the ready The film had a lot cinemagoers reaching for their hankies, and Bennett assures me that the stage version is an equally big tear-jerker. "Don't worry", he chuckles, "the musical will have you in bits too. Bring tissues!" For its protagonist, Once will work wherever it is performed as it is a great play with music
.
"It's about one guy singing these incredible songs – and you hear him singing these songs just solo on the guitar busking on the street, or playing in the studio. It's just a reflection of what is happening in real life. There's also the argument that it has elements of a musical, but what I love about John Tiffany and Stephen Hoggett is that they're taking the musical theatre genre and kicking the arse out of it and making it something new, and different and fresh.
"The West End needs that more than anything right now. It's going to be an exciting year for Theatreland with Once, Book of Mormon… I hope it regenerates people's faith in the genre, like it has in New York. It's time to get people buzzing about theatre again."
Zrinka Cvitešić is the female lead, and you could say the whole show hinges on the potency of the chemistry between her character and Bennett's. So, was a spark there from the beginning?
"Oh I don't really like her, she's not very nice," he says. "No, she's really lovely. Zrinka and I got the chance to work with John, just the two of us, for four days before the official rehearsals started. It really helped cement our relationship. When we all did come together at the end of January for the first time, Zrinka and I had already had that 'moment' together. We just grow every single day, and I grow to love her more every day. She's such a generous singer and musician and actress. That's what's great about this show. It's one thing to go on stage and act with somebody, but to go on stage and play music with people… it's a whole other part of your body and mind. We get to share that, me and her, particularly. It's a damn good job that we like each other."
Bennett's favourite moment in the show is when they perform Falling Slowly which happens when the two are in a music shop. He explains: "Guy finds out Girl plays the piano and starts to accompany her on the song. Halfway through the song, the rest of the cast kind of join in on their instruments and it's such an elevated moment, and that's when people get pulled in."
Bennett's pretty chuffed that Once is bringing him back to London "where my heart is. London's the greatest city in the world, I absolutely love it. But the tubes aren't 24 hours and it's too expensive. New York… is 24 hours and it's the most convenient city in the entire world. It's so easy to get by there, and the weather is amazing. It's extreme on every count, there's vibrancy in the air. But I like the dirty, gritty side of London."
Bennett confesses that he is, unlike Guy, not head over heels in love with anyone and is in his own words, "100 per cent free and single". When in a relationship is he as romantic and spontaneous as his stage character? He laughs and says: "It depends on the other person – on what they bring to the table.
Maybe I'm a little bit old-fashioned but to be honest I can't be bothered with it at the moment. I've got other things happening. Like a West End show. Bring it on!"
Once is at Phoenix Theatre,
Charing Cross Road, London from
March 16 – 30 November 30.
For tickets call 0844 871 7629
or go to Oncemusical.co.uk.
This interview was first published in the Irish World
Ursula O'Reilly Traynor's insight:
Like most people who saw it , we loved the film but were less convinced by the prospect of the Once musical.
This interesting interview from Belfast-born, London-based journalist Shelley Marsden has us thinking we will now definitely go ..once we save up enough to buy a good seat and a big box of tissues! Mind you, those seats will sell fast, so we'd better get a move on!