Craft NI Perspective Exhibition at Craft Central
See on Scoop.it – London Life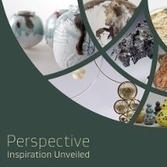 An exhibition of some of Northern Ireland's finest contemporary craftspeople is happening at Craft Central, Clerkenwell, London from 11-15 March
Venue: Craft Central, 33-35 St John's Square, London EC1M 4DS
A word from the Curator, Professor Karen Fleming:
Perspective: Inspiration Unveiled offers a glance at the work of some of the finest and most talented designer-makers living and working in Northern Ireland. The exhibition presents a diverse range of handcrafted products that combine a modern sensibility and edginess with the makers' respect for materials and craftmanship. Innovative processes such as cast resin and quirky sculptured willow take their place alongside silversmithing, ceramics and the sparkling colours of glass and textiles.
Northern Ireland is a very unique part of the United Kingdom with a dramatic and varied landscape, exceptional heritage and a remarkable history of trade. A common theme in most definitions of the creative industries and creative places is that they arise from individual creativity, skill and talent. The synergy of creativity, craft and design and commerce that characterises the region today arises from a heritage spanning world-leading linen and shirt-making to shipbuilding and engineering. There is a higher concentration of small enterprises in Northern Ireland than anywhere else in the UK.
Inspired by the unique landscape and culture of Northern Ireland, all the makers in Perspective: Inspiration Unveiled bring a distinctive perspective and a contemporary edge to their creative products.
for more info about the makers:
http://www.craftniperspective.com/#!makersandcurator/c1t44
Ursula O'Reilly Traynor's insight:
Being from Northern Ireland myself, I am very proud of my Irish heritage.I am really looking forward to seeing some of the best contemporary craft from NI being showcased right here, down the road from me, in cool Clerkenwell! If you love all things Irish, creative and crafty, then get to this exhibition for a celebration with a difference… a perfect pre-St Patrick's treat!
See on www.craftniperspective.com